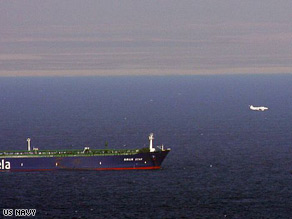 Wonderful news from the coast of Somalia: all 25 crewmembers of the Saudi supertanker Sirius Star are safe and free after nearly two months of captivity. And the pirates who held the ship until a $3 million ransom was paid didn't have much time to enjoy their ill-gotten gains: 5 of them drowned when their getaway boat capsized in heavy waves. Via
BBC
:
Coalition naval forces in Bahrain said it appeared that the pirates on the Sirius Star had received a ransom payment in a container parachuted from a plane.

Reuters later reported that five of the pirates making off with the ransom money had drowned after their boat was hit by high seas.

The audacious seizure of the tanker had drawn fresh attention to the dangerous waters off Somalia's coastline.

There were more than 100 reported pirate attacks in the busy shipping lanes off eastern and northern Somalia in 2008.

An international force headed by the US is due to be established by the end of the month to tackle the problem.

On Friday, Kenya's port authorities said a fishing vessel had been attacked and three Indian crew kidnapped, Reuters reported.

Pirates are still holding a Ukrainian cargo ship, the MV Faina, which was seized in late September carrying 33 tanks and other weaponry.
Prayers of thanksgiving for the safe release of the crewmembers of the Sirius Star. Please continue to pray for the crew of the latest hijacked ship and those still being held captive.
Previous:
Saudi Super Tanker Hijacked Near Coast of Kenya
Crew of MT Stolt Valour Released
Pirate Attacks Forcing Ships Out of Gulf of Aden
Somali Troops Rescue Crew of Hijacked Ship
Somali Pirates Reportedly Reduce Ransom
Record Number of Hostages Held by Pirates Last Month
Two Hijacked Ships, Crews Released by Pirates
Hostage Aboard Hijacked Ukrainian Ship Has Died
Pirates Demand $35 Million Ransom for Ukrainian Ship
Somali Pirates Seize Arms-Laden Ukrainian Ship
Somali Pirates Attack US Oil Tanker
Pirates Seize Second Greek Ship Off Somalia
Danish Nab 10 Pirates
Sarkozy Challenges World to Fight Plague of Piracy
French Couple Rescued from Pirates
Kidnapped French Couple Identified
Pirates Demand Large Ransom, Threaten to Kill French Hostages
Somali Pirates Seize French Ship
Pirates Seize Three Ships in One Day
Somali Pirates Free Two German Hostages
US, Canada to Help Protect Ships from Pirates
Aid Workers Flee Somalia
Two UN Aid Workers Freed in Somalia
Two Swedish Aid Workers Kidnapped in Somalia
UN Aid Worker Kidnapped in Somalia
Three Aid Workers Kidnapped in Somalia
Update on Somalian Aid Worker Kidnapping
Two Aid Workers Kidnapped in Somalia
Update on German Hostages Held by Pirates
The Pirates of the Somali Coast
Somali Pirates Raise Ransom Demand
Somali Pirates Demand $1 Million Ransom
Germany Debates Sending Warships After Somali Pirates
German Child Taken Hostage By Pirates Is Ill
Somali Pirates Strike Again
Somalian Warlord Accuses France of Kidnapping Pirates
Sarkozy, the Scourge of the Pirates!
Crossposted at Not Ready for my Burqua